Saturday April 26, 2008
Leading Edge (Wings)
2.0 Hours
I finally got back to work in the garage today. Yesterday, I was out in the garage for a few minutes and took a closer look at my fuel tank. The rows of rivets attaching the fuel tank skin to the fuel baffling aren't great. Almost all of the rivets sit a little proud, and all angled in the same direction (angled forward as if the baffle was pushed too far forward). It seems that I didn't countersink the holes deep enough (despite checking every one with a rivet immediately after countersinking). The other possibility is that the the baffle wasn't perfectly aligned, but that doesn't make much sense to me as it would have had to be pushed TOO FAR forward, despite having the sealant in there. I don't know; it's definitely not a safety issue, but it doesn't look or feel that great.
Anyway, some of these blind rivets near the spar root were sitting a little proud, so I drilled them out and enlarged the countersunk holes. Unfortunately I caused some minor scratches while re-riveting them, so I had to do some sanding and priming.
Then, I drilled the new landing light lens and installed it. It took a few iterations of enlarging the countersinks before I got a fit I was mostly happy with. It could still be improved a little bit, but it's MUCH better than the old lens. I can live with this fit.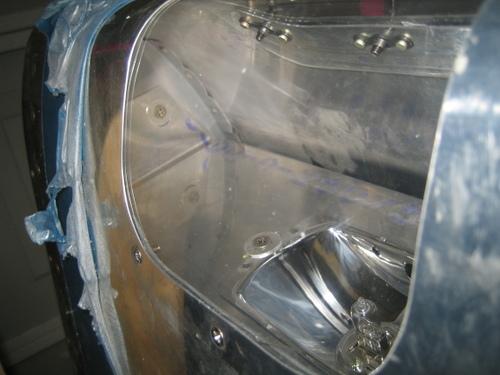 Finally, I grinded down one side of my double offset riveting set in preparation for riveting the leading edge ribs to the spar. Van's could really design this interface a bit better so that you could rivet the leading edge on without having the main wing ribs interfere. Oh well.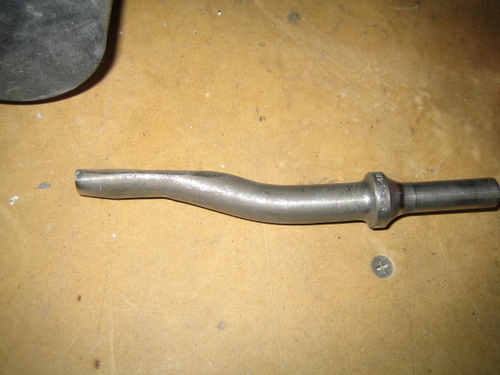 I crashed in front of the television for the rest of the day since I was so tired.