Wednesday October 22, 2008
Tank Testing, Aileron Pushrods, Top Skin Riveting
(0.2 Hours Fuel Tanks, 1.7 Hours Wings)
1.9 Hours Total
My first goal today was to figure out where the fuel tank was leaking. As I suspected last night, my balloon wasn't sealed to the vent line well enough. I redid the balloon attachment and re-pressurized the tank. The balloon is still inflated as I write this, about four hours later.
Then, I prepped and re-primed the ends of the long/fat aileron pushrods. Those are done for now.
Next, I got to work drilling the ends of the short pushrods to the rod ends.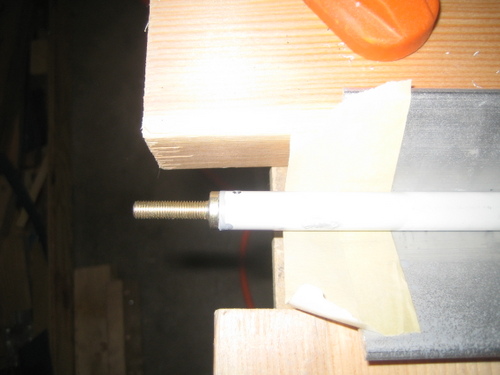 I tried doing it on the drill press to get nice straight holes, but its minimum speed is still too fast for steel, so I ended up doing them by hand with my cordless drill. I drilled all eight holes in one of the pushrods and managed to pull the rod ends out to clean up the holes and get the drill shavings out of the pushrod. The holes aren't perfectly straight, but I think they ended up well enough.
Emily gave me a half hour of her time this evening and we banged out four ribs on the top skin.