Friday June 19, 2009
Bending Longerons, Part 2 (Longerons)
1.2 Hours
Today, I got back to bending the right longeron. This is a very iterative process. I would bend the horizontal bend (the bend I'm trying to get) for a while, until it was very close to the template. Then, I'd remove the vertical bend and twist components that work themselves in. After that, though, my horizontal bend would be out of alignment once again.
Here's a shot of the bend before I started today. You can see how much the longeron on the left (the right longeron, if that makes sense) is bent down. This downward bend has to be removed, which then throws the horizontal bend out of alignment and the whole cycle starts over again.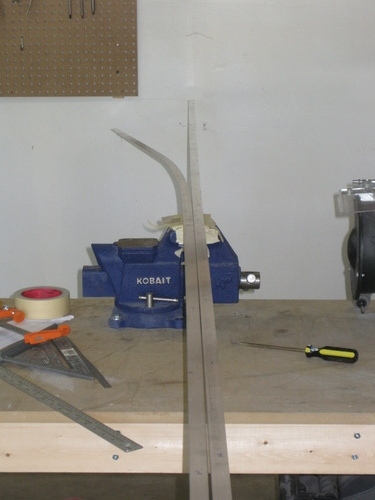 The trick is just to massage the thing to within the specified tolerance, which will take a little more time.