Wednesday February 14, 2007
Wing Main Spar Countersinking (Wings)
3.5 Hours
The left elevator issues have not been resolved yet--I've been exchanging e-mails with Vans tech support. I figure it will be a little while before it's settled, so I got out the drawings and instructions for the wings tonight.
After I felt confident I knew what I was doing, I pulled the two main wing spars out of their plastic packaging and conducted a careful inspection. Other than one very minor scratch, I didn't find any damage. These things are beautiful.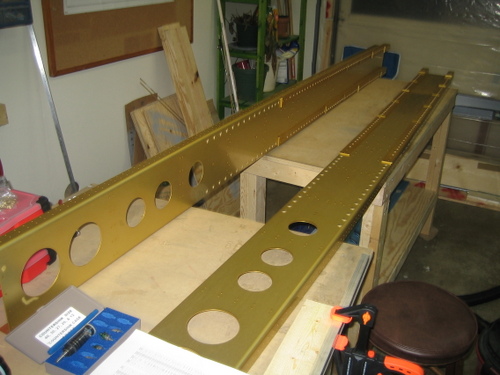 The first job on the wings is to install the nutplates that will later attach the fuel tank to the wing. I started by drilling out all of the rivet holes for these nutplates to #40.
Then, I clamped down a piece of scrap aluminum angle and calibrated my countersink cage for the AN426 rivets I'll use to attach the nutplates. I wanted to be really careful during this entire process, as the main wing spars are extremely expensive to replace.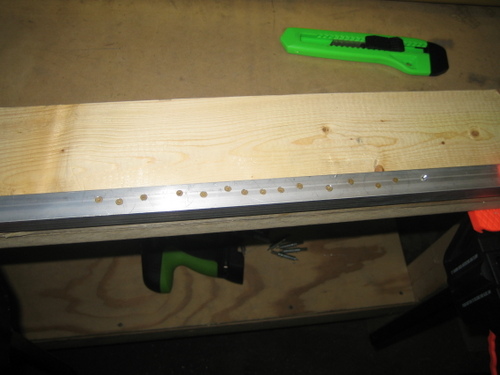 Once I was satisfied I had the right depth, I countersunk the first few holes and checked them with a rivet.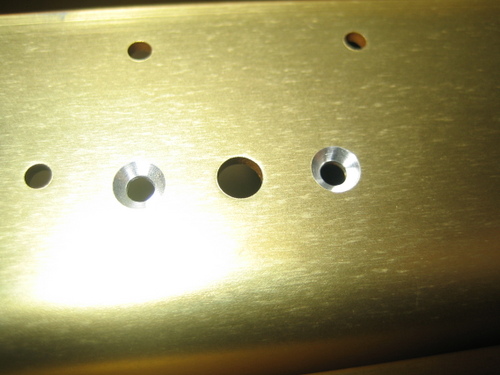 It was damn near perfect, so I kept going. Both sides of the right spar are now finished. Here's the top...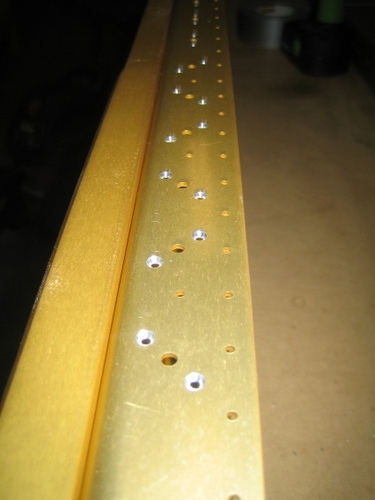 And the bottom...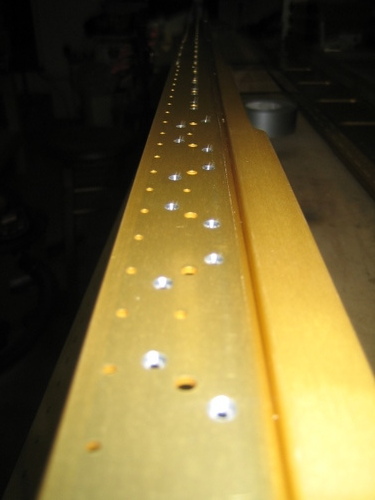 I also drilled and countersunk for the nutplates that will attach the wing access plates on the bottom of the wing. It makes sense to do this now, while the countersink cage is set up. The eight countersunk holes on the bottom row in this image are for those access plates. The countersinks on the upper row are for the fuel tank.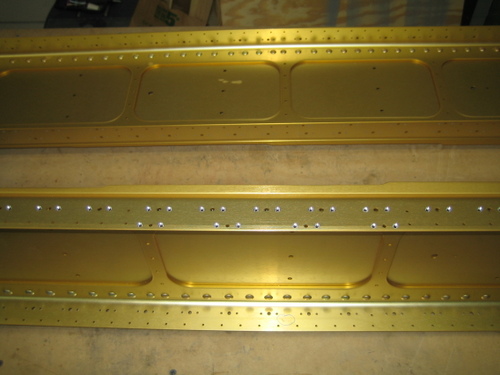 I took my time tonight and the results were excellent. Every single one of the countersinks came out great (I checked each one with a rivet as I went). Tomorrow night, I'll countersink the left main spar and drill the #8 screw holes out to final size on both spars. Then, I'll debur the bottoms of the holes I drilled, spot prime the inside of the countersinks where the anodizing has been removed, and rivet the nutplates. Finally, I'll countersink the #8 screw holes.
It's exciting to be making some progress on the wings, even though I have the rudder and left elevator still unfinished.
---
This work is licensed under Attribution-NonCommercial-NoDerivatives 4.0 International